Concrete is not exactly the simplest material to work with. There are too few materials that can safely bond concrete.
Working with concrete is quite challenging, but all's not lost. If you need to glue concrete to something else or another block of concrete, this article is for you!
As you'll see below, there are multiple variants for concrete glue, and I'll tell you about each.
Below, you'll find the various concrete floor adhesives and a top five of my recommendations.
I'll also include a guide on bonding concrete to other materials.
Keep reading for more information on concrete adhesives!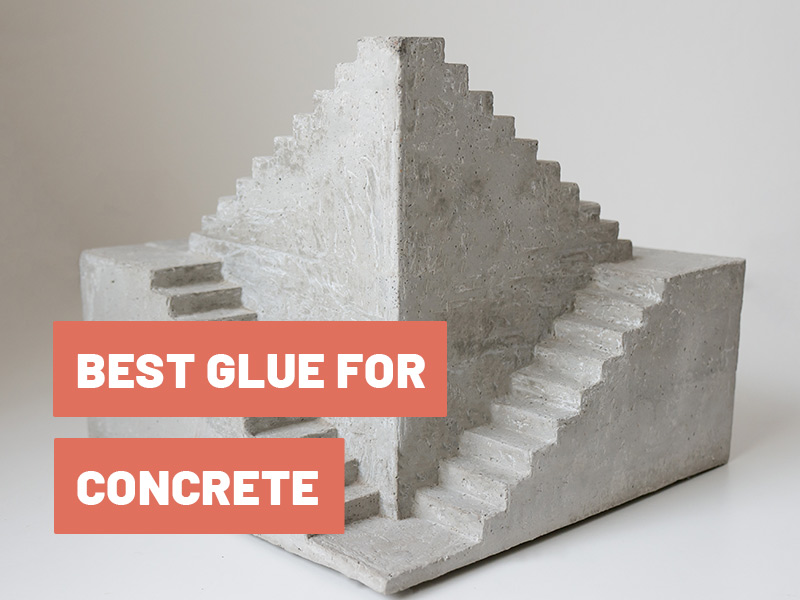 Types of Glues for Concrete
There isn't just one type of glue for the concrete floor. This may make choosing one over the other hand if you're unaware of their characteristics.
It's the same whether you're gluing concrete to plastic, concrete to metal, or concrete to concrete. Here are the five types of glue for concrete:
Two-Part Epoxy
Few adhesives are as good as a two-part epoxy, even for concrete. This adhesive contains a resin and a hardener that you must mix by hand.
The resulting mixture hardens to a permanent bond that's as solid as plastic. Most professionals in the field acknowledge its durability.
In terms of resistances, a two-part epoxy is waterproof, impact-resistant, heat-resistant, and preferably solvent-resistant.
It's versatile as it can bond to concrete, wood, plastic, metal, and anything.
Even though it takes quite a while to cure, it's completely worth it.
If you need a lot of tensile strength for heavyweight applications, a two-part epoxy is just what you need!
Super Glue
Super glue is your best friend for small concrete repairs or anything of the sort.
It dries and cures quickly but is not very resistant to high temperatures or humidity.
I would only use superglue indoors when I need to finish things quickly. Its drying and curing times are almost instant.
In terms of tensile strength and hold, super glue is a high-tier adhesive that leaves a permanent hold on most materials.
Construction Adhesive
When you need to bond concrete in construction projects, what else could you use other than construction adhesive?
These types of glue can bond with almost anything, including ceramic tiles, wood, metal, concrete, and more.
They can bond with any materials used in construction.
Construction adhesives come in tubes that you can use with a caulking gun.
This concrete adhesive works best for weighty and large-scale applications that need a lot of holding strength and durability.
Construction adhesive also works as a glue for concrete cracks.
Latex or Silicone Sealant
Latex and silicone sealants are only good if you need to glue something else to concrete.
They're not ideal for working with concrete per se. They're good for sealing things but not weighty and large-scale applications.
Concrete Glue
Lastly, you can try concrete glue for concrete applications. Simple, right?
These types of glue are uniquely formulated to adhere to concrete and other porous materials.
Of course, the other material you want to bond concrete to is also important.
Some concrete adhesive types are only meant to bond to concrete, while others work on other materials.
Glues that don't work as concrete adhesive include carpet glue, regular gorilla glue, contact adhesive, epoxy glue, contact cement, epoxy resin, wood glue, and PVA glue.
Best Glue for Concrete
Here are my top picks for the best glue for concrete.
1. PC Products 72561 PC-Concrete Two-Part Epoxy Adhesive
Pros
Creates a strong bond
Can bind any type of concrete block and decorative concrete
Works with porous material
Is water and temperature resistant
Cons
Bottle is a bit hard to squeeze
This concrete adhesive is super easy to apply if you have a caulking gun because the high-tack formula doesn't allow it to be runny.
It's also very resistant to high temperatures and water.
When you apply it, you have about 20 minutes to work with your materials and reposition them before the glue sets and dries.
In four hours, it'll fully cure, and there's nothing you can do then. But 20 minutes is a good working time.
You can use PC-Concrete Two-Part Epoxy Adhesive on masonry, regular concrete, and grout-filled blocks.
It's great for indoor and outdoor use, thanks to its high resistance to moisture and heat.
2. Gorilla 8008002 Ultimate Construction Adhesive
Pros
Creates a very strong bond
Works on ceramic tile and fresh concrete
Great concrete bonding adhesive
Is waterproof
Gorilla Ultimate Construction Adhesive's name says it all.
This concrete adhesive is versatile and can bond to anything, including plastic, wood, concrete, and other porous and non-porous materials.
Once you apply it, it'll harden almost instantly and deliver a super strong and durable hold.
It doesn't require clamping and is 100% waterproof, so it perfectly works on outdoor applications.
This construction adhesive can also be used for wood, drywall, plaster, foamboard, masonry, and concrete.
You can also sand it down or paint it over it after it has dried and cured.
Even though it takes quite a while to cure, you can use it underwater, and the thick formula won't be drippy either!
You can also use this product to glue pavers to concrete.
3. Loctite PL 500 Landscape VOC Construction Adhesive
Pros
Amazing bonding agent for concrete
Can glue wood and rubber cement
Creates a strong bond
Temperature and water resistant
When you need to work only with concrete, Loctite VOC Construction Adhesive is the best adhesive out there.
It's made specifically to bond concrete to concrete or other types of masonry.
You can dispense it easily with a caulking gun, and you won't make a mess no matter how unskilled you are.
It has a thick consistency, so it's great as a gap filler and sealant, and its holding power is high-tier as well.
While it can't withstand high temperatures very well, it's 100% waterproof.
You can use it for indoor and outdoor applications as you see fit. I only recommend it for concrete and masonry materials!
4. Adiseal Hi-Grab Extra Strong Grab Adhesive
Pros
Waterproof and UV resistant
Solvent-free
Creates a strong bond
Adiseal Hi-Grab Adhesive is waterproof, UV-resistant, solvent-free, and super strong.
Its tensile strength is high-tier, and combined with its flexibility even when cured, Adiseal is a great choice no matter what you want to bond.
In your case, it works perfectly for concrete and other masonry materials.
It also won't become brittle when cured, and you can easily sand it down or eliminate excess parts.
Thanks to its high resistance to water, you can even submerge the bond underwater, and it won't dissolve.
It can also withstand high temperatures and direct contact with UV light.
While it's more expensive than the other adhesives on this list and contains harmful chemicals, Adiseal Extra Strong Grab Adhesive is a must-have if you want multifunctional glue for concrete!
5. Liquid Nails LN903 Heavy-Duty Construction Adhesive
Pros
High water resistance
Very durable concrete adhesive
Works also with plywood
If you've never worked with liquid nails before, it's a good start with this Heavy-Duty Construction Adhesive.
If you need to bond very heavy materials like brick veneer, plywood, cement backer, or concrete blocks, Liquid Nails LN903 is your best bet.
It's ideal for masonry and is water-resistant to a high degree.
It's durable and flexible when dry, so it won't crack or become brittle in time.
It can also hold a few hundred pounds without too much hassle, so that you can use it for large-scale applications without worries.
I recommend it if you're working with concrete and other heavy materials.
How to Glue Concrete to Concrete
First things first – you need a proper adhesive to do this. I recommend PC Products 72561 PC-Concrete Two-Part Epoxy Adhesive.
Follow the steps below to have an easier time doing it:
Gather all your materials together, and wear long-sleeved clothing, a pair of rubber gloves, and safety glasses. Use a caulking gun, a tube of construction adhesive, a carpet knife, and a bubble level.
Prepare the concrete by drying and cleaning it to ensure the adhesive sticks properly. Dust the concrete, wash it, and then dry it to clean off all impurities.
Place the construction adhesive tube into the caulking gun and cut the tip from the tube. Now squeeze the adhesive through the caulking gun in a zigzag pattern over the piece of concrete.
Calm down on the first piece of concrete with another piece, and then wait. Depending on your adhesive, it may take up to a few days until the curing process is complete.
When you're doing this, you should follow a set of strict safety tips.
For instance, you'll need a pair of rubber gloves when working with any type of construction adhesive.
Most adhesives are corrosive and will instantly stick to your skin, especially super glue types.
Eye protection is also a must because many types of glue are toxic; if they get into your eyes, you'll be in big trouble.
I also recommend wearing long-sleeved clothing, so the glue doesn't get on your hands, arms, and legs.
Carefully follow the adhesive label instructions and try to work in a well-ventilated area.
Many adhesives emit toxic fumes that make you sick if you breathe too much.
Wrap Up
Generally, bonding concrete with the right glue is simple and easy. It's nowhere near as difficult as bonding other materials.
My top pick for this list is PC Products 72561 PC-Concrete Two-Part Epoxy Adhesive, an epoxy that you'll need to mix by hand.
Its bond is strong, durable, and highly resistant to all external hazards!