In this article, we'll talk about the best heat-resistant glue, how to apply it, and what types of glues are good for this job.
In many cases, you need heat-resistant glue for outdoor repairs. Ideally, the bond should remain weather-resistant for a long time.
This is where I come in, telling you more about heat-resistant glues and how they work.
Please keep reading for my list of 8 heat-resistant types of glue that you can start using right now!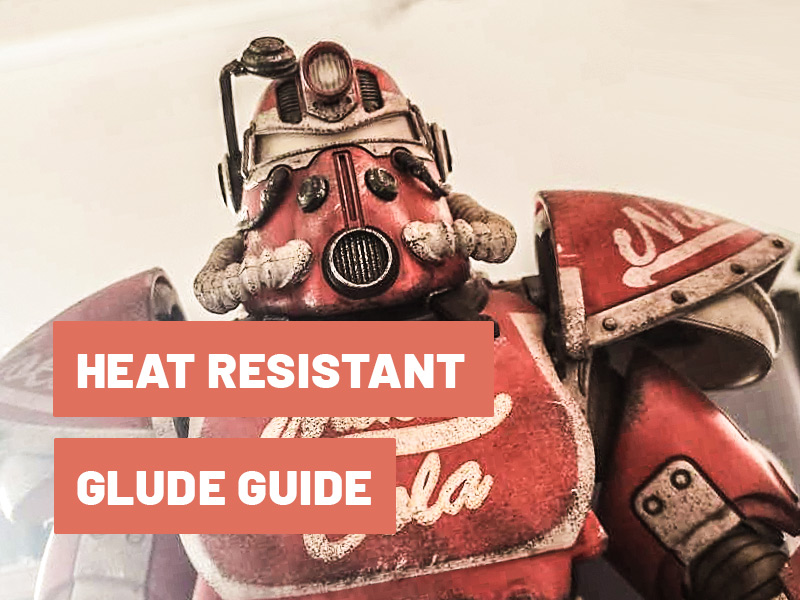 Types of Heat-Resistant Adhesives
There isn't just one type of temperature-resistant adhesive out there. You can choose from a wide range of products, including:
Super Glue
Super Glues are the first adhesives that come to mind. These bad boys dry and cure fast, and they can take temperatures of up to 330 degrees Fahrenheit (165 Celsius).
They make for great outdoor adhesives with a powerful bond.
However, temperatures above the 330 F mark will degrade and melt the glue. The bond starts breaking apart and releases cyanide gas into the air.
In other words, while super glues are heat-resistant, they can't handle extreme temperatures.
Moreover, superglues tend to have less impact-resistant than other adhesives.
Epoxy
Not all epoxy glues are heat-resistant, but the ones we're talking about are resilient to high temperatures.
Thanks to specific additives, these epoxies can take temperatures up to 600 degrees Fahrenheit (325 Celsius).
Regular epoxies are only good for temperatures up to 300 degrees Fahrenheit. You should choose a fitting epoxy and do your job with it, depending on your needs.
It's also good that most epoxies are 100% waterproof, with quite a bit of impact resistance.
For most small and medium-sized gluing jobs, epoxies are a great solution, even though they don't have the most powerful bonds.
Silicone
When it comes to high-temperature resistance, nothing beats silicone.
A special type of silicone is specially designed to take on extreme temperatures. That's what you want!
However, silicone is usually used as a sealant adhesive, not a common glue. Though, it can act as glue if you need it to.
Heat-resistant silicone can easily withstand temperatures above 630-640 degrees Fahrenheit.
Glues that aren't very resistant to heat are wood glue, gorilla glue, gorilla super glue gel, epoxy resin, and organic adhesives.
Check out my guide on how to glue silicone for more tips.
Best Heat Resistant Glues: What to Pick
Here are my recommendations for the best heat-resistant glue:
1. Krazy Glue Maximum Bond
Pros
One of the best heat resistant adhesives
Strongest glue around
Extreme temperature resistant
Waterproof
Cons
Cures only at higher temperatures
Among all other glues, Krazy Glue Maximum Bond seems to be a best-buy for a variety of reasons, such as:
Resistant to high-temperature fluctuations
Impact and shock-resistant
Dries and cures very quickly
No-run formula great for vertical gluing
Perfect for metals, plastics, vinyl, ceramics, rubber, porcelain
Krazy Glue works on porous and non-porous materials, even in extreme outdoor temperatures.
The impact and shock-resistant concepts allow this glue to have a much longer lifespan than most other glues.
Do you need to glue something vertically? With Krazy Glue, thanks to the no-run formula, you can do it.
Its strong bond also ensures the materials will stick together for as long as needed.
2. Rutland 500°RTV High Heat Silicone
Pros
Great heat resistant adhesive
One of the best high temperature adhesives
Waterproof
Bonds with all materials
Rutland High Heat Silicone can easily take on temperatures up to 500 degrees Fahrenheit.
This specialized silicone is a great tool for welding and fire-related gluing jobs. It's not only strong and near-indestructible but also flexible once dry and cured.
Rutland is impact-resistant, waterproof, and bonds to any material you need, be it wood, metal, vinyl, ceramics, plastics, or stone.
Though, I'd recommend using it for:
Plastics
Metals
Wood
Brick
Stone
Fiberglass
Glass
The waterproof concept allows you to use this silicone in highly moisturized environments.
Rutland bonds impeccably with anything as long as the work surface is clean and without impurities.
3. ASI Hi-Temp RED RTV High Temperature Silicone Sealant
Pros
Resistant to high temp
Great temperature resistant adhesive
Very high heat resistance
Food safe
Cons
Takes a long time to cure
Another silicone, this time an even better one. ASI Hi-Temp Silicone Sealant can withstand temperatures of up to 600 degrees Fahrenheit.
This makes it ideal for fire and welding applications, or even sealing fireplaces.
The silicone bonds easily with most materials while remaining flexible when dried and cured. It's also waterproof, making it safe for outdoor use.
After curing, this silicone will remain impact-resistant for many years to come, as well. But the curing time is approximately 24 hours, even if you apply it with a caulking gun.
Lastly, ASI Hi-Temp Silicone Sealant is also food-friendly, so there's no risk of poisoning yourself with it.
4. Permatex 81160 High-Temp Red RTV Silicone
Pros
Resistant to higher temperature
Works at elevated temperatures
Waterproof
Comes with precision applicator
Cons
The tube can leak sometimes
Our third silicone sealant on the list, Permatex, has double temperature resistance for low and high temperatures.
With Permatex, your materials will stay strong even in temperatures above 640+ degrees Fahrenheit and below -60 degrees Fahrenheit.
This sealant is a great choice for welding applications and gluing jobs related to fire exposure.
Once it dries out, this silicone is completely waterproof, so it's ideal for sealing:
Water pumps
Valve covers
Oil pans
Thermostat housings
Transmission pans
Timing covers
The applicator allows for extreme precision, but the bottle is small, so you may need multiple Permatex bottles to finish the job.
5. Elmer's China & Glass Cement – High Temperature Glass Glue
Pros
Forms an extremely strong bond
Great for both indoor and outdoor use
Resistant to extreme heat
Resistant to moisture
This 100% waterproof glass glue is temperature-resistant, so it can easily withstand extreme heat.
I recommend it for gluing back broken dishware because this is a specialized type of glue. It'll retain its form once in the dishwasher, as well.
You can use it for indoor and outdoor applications; remember that this is a non-toxic glue.
It works on porcelain, dishes, pottery, and even ceramic. Though, it's not the best glue for wood, plastic, and metal.
Also, while Elmer's Glass Glue sets in a few minutes, the curing time takes about 3 days. Only after it finishes curing is the glue safe for the dishwasher.
6. J-B Weld Steel Reinforced Epoxy – Heat Resistant Glue for Metal
Pros
Great both for porous and non-porous material
Mess free application
Water and temperature resistance
Cons
Takes a long time to cure
J-B Weld Steel Reinforced Epoxy is a great glue that resists temperatures of about 550 degrees Fahrenheit.
Only a few glues are better than this. That's not all, since this glue can withstand sudden temperature shifts, even extreme ones.
As for versatility, the J-B Weld works on the following materials:
Fiberglass
Tiles
Plastic
PVC
Metal
Concrete
Wood
However, this glue takes quite a while to dry and cure (about 6 hours to dry and 24 hours for the curing process).
But when it cures completely, the J-B Weld allows you to sand it, paint over it, and drill inside it.
It has an exceptional bond that will hold in place any material!
7. Gorilla Heavy Duty Construction Adhesive
Pros
Great for industrial applications
High heat resistant glue
Dries very fast
Cons
Hardens super fast – can't be adjusted later
Everyone needs construction glue at one point. Gorilla Heavy Duty Adhesive is resistant to temperature fluctuations and moisture.
It's also great for indoor and outdoor use, being semi-water-proof. The formula is low-odor, so you won't have to wear a mask either.
Gorilla Adhesive sets and hardens in a few minutes, so you won't have long to finish the job.
This is somewhat of an emergency glue, great for those times when you're in a hurry. After it dries and cures, the glue can be painted over and handled.
8. Loctite GO2 Gel Super Glue
Pros
Works on most material
Extremely high heat resistance
Sets in about 5 minutes
This glue is thicker than most other adhesives, making it ideal for most applications. It works best on:
Wood
Leather
Textiles
Metal
Stone
Glass
Ceramic
Plastics
Loctite Super Glue sets in 5 minutes but cures within 24 hours, which is quite a lot.
However, once cured, the bond is highly resistant to all forms of degradation, including extreme temperatures, impact, and shock.
The thick viscosity also allows you to apply it vertically, and it'll hold down heavy weights without a problem.
It's still flexible once dried, so you can paint over it and handle it easily.
What To Look for When Buying Heat-Resistant Glues
Before buying heat-resistant glues, you should consider a few factors that may improve your experience:
Bonding time – When the glue dries fast, you can finish more work in less time. So, look for quick-drying glue.
Workability – Can you pain over, drill inside, and sand the glue once dry and cured? If not, then you're using the wrong glue.
Moisture Resistance – If you're working outdoors, you probably want waterproof glue that can withstand humidity and dampness.
Temperature resistance – You'll need glue that can withstand high temperatures. Some glues are more resistant than others. Look for the one with the most resistance to heat, in other words.
Curing Time – Again, a faster curing time allows you to finish things a lot quicker. You can return to work sooner if the glue cures in a few hours.
Color – Depending on your application, you may want a specific glue color or a clear one. Be careful when buying glue without checking for color.
Viscosity & Clamping – Is the glue thicker than most? Then, it may not require clamping, especially in difficult situations like vertical gluing.
Shock and Impact Resistance – Depending on the application requirements, you'll want glue that resists extreme shock and impact.
There are also safety tips you should consider when using heat-resistant glues. Always wear gloves because most glues are extremely sticky and hard to eliminate.
If the glue emanates toxic fumes, apply it in well-ventilated areas. A mask may be in order, though.
Conclusion
Heat-resistant glues are specialized adhesives that are great for high-temperature applications.
Krazy Glue Maximum Bond is a great glue that leaves behind a strong bond and has exceptional resistance to high temperatures.
It's what most experts are using for fire-related or welding applications.
Leave any questions below, and I'll reply within minutes!