Many handypersons will need to work with acrylics at some point. This is a very versatile material that has many uses. But finding the right glue that works with the non-porous and durable material isn't easy.
In this article, I'll present 10 types of glue for acrylics and discuss specific details when looking for acrylic glues or nail glue.
Acrylics require certain application methods and proper glues if the material lasts long-term. You can't use any third-rate glue and expect things to go well. To be more efficient, you have to use better glues.
Recommendation – Weld-On 4 Acrylic Adhesive is a fast-drying adhesive with a thin formula that's super strong and resistant to virtually anything. You also have two minutes to rearrange the material after applying the glue. The waterproof concept and fine nozzle applicator are just two of the innovative aspects of Weld-On adhesive!
Keep reading to find out more!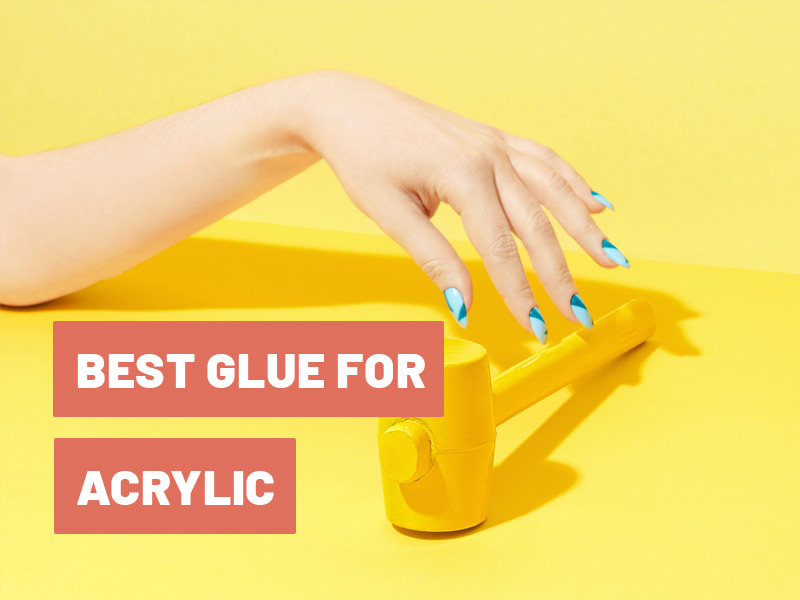 Types of Glue for Acrylic
Bonding acrylic plexiglass needs some fine-tuning and the right plexiglass glue. Now, several adhesives will do a good job:
Cyanoacrylates
Also known as super glues, cyanoacrylates are great at bonding two materials together quickly and efficiently. Super glues are especially efficient at bonding acrylics together, forming a durable bond that can resist most external hazards.
However, super glues aren't impact-resistant at all. Super glue can take much punishment for high temperatures, solvents, and water.
Though, cyanoacrylates aren't the best adhesives for non-porous and smooth surfaces like acrylics. They can form a bond, but it isn't the best.
Solvent-Based Glues
Second on this list is solvent-based acrylic glue. This adhesive can bond with any material, porous or non-porous, smooth or rough. So, it's a suitable glue for acrylic and not only.
The resulting bond is strong and durable, having peak resistance to water, heat, solvents, and acids of all kinds.
The downside is that most solvent-based glues are expensive and toxic to humans and the environment.
Acrylic Plexiglass Cement
Lastly, the acrylic plexiglass cement is my best recommendation for acrylic jobs. This type of adhesive is specially designed for this material, and its tensile strength is very high.
It works great on most types of plastic, as well.
While there are many types of plexiglass cement, most will follow the same winning formula.
The cement will dry quickly and form a long-term bond that should resist virtually anything, including shock, impact, solvents, heat, and humidity.
10 Best Glues for Acrylic
Below are my recommendations for the best adhesives for acrylic.
1. Weld-On 4 Acrylic Adhesive
Pros
Perfect for gluing acrylic & for gluing plexiglass
Very easy to apply
Extremely resistant
Affordable pricing
Cons
Can be messy
Bottle can easily dry out if left open
Weld-On 4 Acrylic Adhesive is your best choice if you want something strong. Weld-On 4 Acrylic Adhesive is your best choice if you want something strong.
This acrylic glue is not only strong but durable as well. It can lock acrylic pieces together and keep them there for many years.
The bond can resist:
Impacts
Shocks
High temperatures
Humidity
Solvents
Once it dries out, Weld-On 4 Acrylic Adhesive forms a permanent bond. There's a lot of product in the package, so you'll have enough glue for many repairs.
The application part may be messy, especially if you're not used to industrial-grade glues.
The can-style packaging is also a bit innovative, which further increases the usage difficulties. If you're not careful, you may spill the entire bottle when cleaning the applicator.
The glue will often dry out on the applicator bottle, as well.
I don't recommend keeping the applicator in the bottle if you're planning to use it often. I recommend ignoring the applicator and applying the glue manually with the bottle.
This should take some worries off your mind.
Weld-On 4 Acrylic Adhesive is also a suitable choice if you need glue for foam.
2. CIGRIP 16 Acrylic Cement
Pros
Great option to glue plexiglass
Works with different types of plastic
Works great on acrylic materials
This special cement-based acrylic adhesive with a very high tensile strength forms durable bonds over the long term.
Moreover, the VOC content is very low, so it's not too toxic when breathed.
It's a great plexiglass glue for various types of plastic that sets in about 6 minutes. That's plenty of time to repair any mistakes you make during the application.
The adhesive will dry clear but fully cure within 48 hours. In the first 24 hours, it'll achieve about 80% strength.
Despite being very explosive, SCIGRIP 16 Acrylic Cement is a good glue for ABS plastic, styrene, PVC, polycarbonate, and butyrate.
Even though its effects aren't best for non-porous materials, it works great on acrylic materials such as acrylic cement.
3. IPS Weld-On 16 Acrylic Plastic Cement
Pros
Very easy application
Extremely strong bond
Very resistant
Cons
Not recommended for smooth surfaces
Everyone loves a versatile adhesive that works on a wide variety of materials. IPS Weld-On is exactly that kind of glue.
It works on ABS, polycarbonate, PVC, polystyrene, butyrate, and other porous surfaces.
Check out my guide on the best glues for polycarbonate for more product tips.
One of the things I like about IPS Weld-On is its high tensile strength. It can support heavy weights and has great impact and shock resistance. This adhesive is a great choice for bonding heavy acrylics over the long term.
The fast-bonding time is both a pro and a con since you barely have enough time to repair any mistakes. The applicator cap is precise, so you won't make a mess while using it.
Making mistakes is improbable, in other words.
4. J-B Weld 50133 Plastic Bonder Structural Adhesive
Pros
High temperature resistance
High solvent resistance
Waterproof
I've always liked 2-part epoxy glues because they are extremely versatile and maintain a strong bond over the long term.
J-B Weld Plastic Bonder has great tensile strength, peak resistance to solvents, water, and heat, and dries quite quickly.
Specifically, J-B Weld 50133 Plastic Bonder has a tensile strength of 3700PSI to handle pressure loads. Based on its bonding strength, this product is the strongest on our list.
In terms of resistance to hazards, this adhesive is:
Waterproof
Solvent-proof
Heatproof
Shock-proof
Impact-resistant
You will have to clamp it down on the materials for full effect. Moreover, the adhesive needs thorough mixing before applying it.
You might make a mess if you're not careful, but the good news is that it works on various materials.
This includes plastics and PVC, thermoplastics, carbon fiber composites, concrete, ceramic tiles, aluminum, fiberglass, and more.
My guide on the best glues for ceramic repair will offer you further tips.
Lastly, this adhesive comes with a resealable cap to prevent leaks. The glue will not dry either, thanks to this cap. J-B is among the few 2-part epoxy glue that won't dry after a few uses.
5. Glue Masters Professional Grade Cyanoacrylate – Super Glue for Acrylics
Pros
Very high bonding strength
Control tip eliminates mess
Dries quickly
Cons
Open container can dry too fast
Unpleasant odor
Super glue never disappoints, and Glue Masters products are even more so. This super glue is extremely powerful, with a precision-type control tip that always performs well.
Thanks to the control tip, I've tried it, and making a mess is next to impossible. You apply exactly how much you want, not one drop more.
The thick texture makes this adhesive a bit dense, making it easy to apply to any material.
Though, this also means it'll dry quickly, so you won't have too much time to work with it. Still, cleaning and reapplying are easy if you meet with problems.
Once it dries out, Glue Masters Super Glue is shock and impact-resistant, with the immense tensile strength to hold all acrylics into place.
There's a lot of glue in the bottle so you won't run out mid-repair.
Lastly, you have 60 days to return the adhesive if unsatisfied with it!
6. Gorilla 7700104 Super Glue Gel
Pros
Affordable pricing
Very fast bonding
Works with smooth surfaces
One of the most renowned acrylics glues, Gorilla Super Glue Gel, is a strong competitor to our first place on this list.
The gel is versatile and works in various applications and acrylic plastics.
It works on small acrylics, but you can also spread an entire sheet of glue for larger acrylic pieces. Being a gel, it's not too drippy or runny, and the no-run cap further improves the usability of this adhesive.
You won't need to worry about making a mess in the work environment. You can take your time repairing or constructing your arts and crafts without a hitch.
There's no product wastage either, thanks to the no-run cap.
Gorilla Super Glue Gel bonds quickly and dries in a minute. Work fast, or you'll need to redo it! Once it dries completely, the bond becomes super hard and immovable, but it'll need some time to cure fully.
Acrylic materials are notorious for being hard to work with. Most glues don't work on smooth surfaces, so you'll need something specific.
Gorilla Super Glue is both affordable and suitable for acrylics. I wholly recommend it! It also works as a glue for cracks in concrete, which is a huge plus.
7. Aron Alpha Type 232 Instant Adhesive – Rapid Drying Glue for Acrylics
Pros
Super strong
Very fast bonding (5 seconds or less)
Great for nonporous materials
Cons
Bad smell
Fast bonding not always an advantage (forgetting container open)
This adhesive is a great option for nonporous materials, especially acrylics and other plastics.
Because it dries in less than five seconds, there's no time to work with it. You barely have enough time to apply it to the materials and clamp them down.
The high tensile strength prevents mishaps from dropping accidents, shocks, and impacts.
Moreover, the glue is very efficient, so you won't need to use it too much during repairs.
Thanks to the low viscosity and thick consistency, it won't run down when you apply it.
However, it has a strong smell that I don't recommend breathing. Use a breathing mask for the best results!
8. Loctite Clear Silicone – Clear Drying Glue for Acrylics
Pros
Dries very fast
Waterproof
Precise application tip – creates no mess
24 hour curing period
Cons
Bad smell
Very difficult to remove
Loctite is a famous adhesive brand that, so far, has never disappointed. Clear Silicone for Acrylics from Loctite is a silicone-based glue fit for nonporous materials like acrylic.
It's also very easy to apply, and anyone, including you, can do it.
Its low viscosity leads to a simple application, and since the adhesive won't run off, you won't make mistakes either.
Its application tip is precise and convenient, offering a certain degree of control during application.
Loctite Clear Silicone is quick-drying (less than 5 minutes), but the curing period lasts 24 hours.
Still, once it fully dries and cures, the bond becomes waterproof, solvent-proof, heat-proof, and impact-resistant. It's also fairly resistant to shocks and drop accidents.
The adhesive contains nothing but silicone, which offers a certain degree of flexibility to the bond. Despite this, the smell is quite strong, so you may need to use a respirator or mask when applying the glue.
9. Loctite Epoxy Plastic Bonder
Pros
Very easy to apply
Highly durable
Shock resistant
Cons
Tube can clog
Bonds rather slowly compared with others
Loctite Epoxy Plastic Bonder is a versatile adhesive that works on all plastics and acrylics like acrylic nails, fake nails, acrylic plastic, or cast acrylic.
Its high durability and high resistance to solvents, heat, humidity, and moisture make it great. Few external hazards can affect this bond once dry and cured.
The glue is easy to apply, for the most part. Even though the tube clogs quite easily and it's slippery, you shouldn't have problems if you're careful.
Moreover, the adhesive won't crack, peel, expand, or shrink after it dries out. The bond stays durable for many years ahead.
Still, Loctite Epoxy will take a while to dry and cure, but it's well worth it after the bond becomes virtually unbreakable.
10. 3M Scotch-Weld Plastic & Rubber Instant Adhesive
Pros
Very strong bond
Very fast drying
Works with most acrylic types
Last but not least, there's 3M Scotch-Weld Plastic Adhesive. This one is a great choice when nothing else works or if you don't have anything else on hand.
It can bond any material, but it's specifically devised for gluing plastic and rubber.
The bond is durable and resistant to most hazards, including heat, humidity, solvents, etc.
3M Scotch-Weld Adhesive dries quickly and is very hard to remove. Not even strong impacts and shocks can destroy this bond.
You don't need to use that much glue because it's very concentrated. A few adhesive works a long way for most repairs.
The applicator allows for improved precision when working with it, and the low viscosity means it's easy to apply.
Buying Guide and How to Use Acrylic Glues
Many types of acrylics include fabric, plastics, and fake nails. These are all acrylics, yet not all glues work with them.
Some may bond fake nails and plastics, but they may not be good for fabric. Read the label before buying any glue!
Usually, people refer to acrylic glues as plastic glues. That's the common denomination, so you're looking for glues for thermoplastics and thermosetting plastics.
I recommend a versatile adhesive that works for both materials.
If you're trying to bond acrylic plexiglass, then I can help you. But having the glue doesn't mean you know how to use it. Even the instruction labels aren't always too helpful.
Below, you'll find a step-by-step guide on how to work with plexiglass and how to bond it efficiently using a special adhesive:
Prep the surface by wiping the acrylic pieces using a damp cloth. Wait for the materials to dry, and look for any remaining debris. Try to wipe every piece of debris because the more debris there is, the less efficient the glue becomes.
When it comes to acrylics, bonding them is counterintuitive. You must clamp the two surfaces before applying glue between the joints. Classically, you'd put the glue first and then clamp the two materials together, but acrylics are different.
Clamp it down and wait for the bond to dry. In worst-case scenarios, the glue needs 24-48 hours to dry and cure fully.
As usual, I recommend wearing protective gloves and a face mask. Also, work in a ventilated environment where the adhesive fumes can't get to you as easily.
Wrap Up
It's not exactly a walk in the park to work with acrylics. But the result is quite satisfying. Thankfully, with this guide, you'll need the right glue, and you can get started.
I've explained what glues you should look for, so you shouldn't have any problem working with acrylics!
I recommend Weld-On 4 Acrylic Adhesive for best results. It has tremendous tensile strength and is one of the most durable bonds among all adhesives I worked with.
It's virtually unbreakable against shock, impact, heat, humidity, solvents, and so on!