Ceramics are some of the house decorations most vulnerable to cracking and breaking. If a disaster happens and you're wondering how to repair ceramic, this article is for you.
I'll present 9 adhesives that are great at bonding ceramic back together.
While it's not particularly difficult to glue ceramic, the quality of the adhesive is an essential factor in the process.
Choosing a high-tier ceramic glue is necessary unless you want to do a shoddy job.
Recommendation: Gorilla 2 Part Epoxy would be my first pick. Epoxy glues have some of the best tensile strength, durability, and hazard resistance. This glue will dry clear and set in 5 minutes tops. It's also very easy to apply due to the syringe applicator.
Below, you'll find a great guide on buying and using ceramic glues and my list of the nine best ceramic types of glue!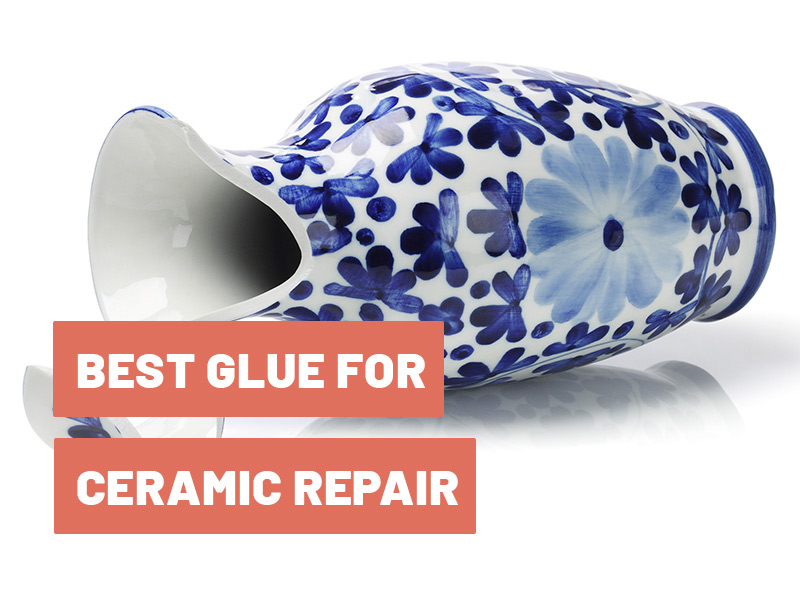 Types of Glues for Ceramic
While there are multiple types of adhesives, only two are best for ceramic. Let me explain:
Epoxy
The best glue for broken ceramic, epoxy glue, is chemical-based. They contain multiple chemical compounds that adhere to objects following a heat-based chemical reaction.
The components form a powerful plastic resin bond that never breaks.
Epoxy glues are set quickly and clearly, but the curing process may take a few hours. However, this adhesive makes up for the long curing time with its high resistance against heat, water, solvents, and chemicals.
So, if you want to piece back a broken ceramic mug with which you'll drink hot coffee, epoxy glues are a great choice to ensure the bond doesn't dissipate from the heat.
I recommend non-toxic ceramic glue if you want to repair dishware, though.
Super Glue
Your other choice would be super glue, a cyanoacrylate adhesive that bonds anything instantly. The setting and curing times are almost non-existent, as this adhesive bonds to most objects instantly.
Super glues have tremendous tensile strength, as well. I'd recommend getting a high-temperature ceramic super glue resistant to heat.
Waterproof and heat-proof glue is even better.
The one disadvantage of super glues is their low strength on smooth surfaces. That's why I recommend using super glue on rough surfaces.
Best Glues for Ceramic Repair
1. Gorilla 2 Part Epoxy
Pros
Quick 5 minute setting time
High resistance to chemicals
High bond strength
High tensile strength
This is my top pick for this guide on gluing broken pottery. Gorilla 2 Part Epoxy has a very high tensile strength, ensuring the proper bonding strength for any ceramic object.
It also dries clearly and is easy to dispense from the two resin and hardener compartments.
The syringe design dispenses the two substances evenly, and you won't need to waste time measuring quantities. However, the two substances must be mixed before applying them to the material.
The setting time is 5 minutes, making it ideal for quick repairs but not quick enough so you can't rectify mistakes.
Once it fully cures, the resulting bond is highly resistant to chemicals, heat, water, and solvents.
You can even sand down the glue once completely dry, making it almost invisible if you don't look carefully.
Gorilla 2 Part Epoxy can also be used as glue for porcelain toilet repair.
2. Loctite Heavy Duty Epoxy
Pros
Is water resistant
Strong bond strength
Works also as wood glue
Loctite is a famous adhesive brand that never disappoints. It's not only good for ceramics, though. You can glue wood, plastics, glass, metal, fiberglass, concrete, stone, porcelain, and tiles.
Once applied, Loctite Heavy Duty Epoxy takes 5 minutes to set in and 24 hours to fully cure. You will need to mix the 2-part epoxy before application, though. Dispensing equal parts of both components may also be hard.
However, Loctite boasts an insane tensile and impact strength. Once dry and cured, you can sand the glue, drill through it, and paint over it without a problem.
It won't break or deteriorate in any way.
Loctite Heavy Duty Epoxy is water-resistant and impact-resistant, has a strong bonding strength, and doesn't shrink after application.
In other words, it's a great adhesive for repairing ceramic.
3. Dap 00688 All-Purpose Adhesive Sealant
Pros
Good heat resistance
Is water resistant
Non-toxic
High impact resistance
First, Dap Adhesive Sealant is silicone rubber, not super glue or epoxy. Despite this, the adhesive is 100% waterproof, heat-resistant, non-toxic, and has high tensile strength.
It's a great glue for a ceramic item, in other words.
It'll dry clear and fast, and it'll even retain its elasticity when dry. You can also mold it however you want and make it invisible.
The resulting bond will also be impact-resistant and won't shrink either.
While it's not resistant to all solvents and the setting and curing times are long, Dap Adhesive Sealant is non-toxic.
When repairing ceramic, chances are you're fixing dishware, and using a toxic ceramic adhesive is a no-go. That's why Dap is a great choice!
4. Bob Smith Industries Gap Filing Super Glue
Pros
Bonds extremely fast
Waterproof
bonds with all materials
Cons
Not foot safe (should not be used for household items)
This is one of the most quick-setting adhesives I've tried. In as fast as 10 seconds, the glue will make a great bond, and within minutes, it'll be fully set.
The resulting bond will be even stronger than the ceramic material itself.
It's also good for wood, rubber, leather, metal, plastic, tiles, concrete, and more. It can virtually bond any material, not just ceramic. The waterproof concept makes it ideal for ceramic dishware, though.
With the applicator nozzle, you'll have an easy time gluing anything. It'll stay in place thanks to its high viscosity, though it'll also be hard to spread.
It's also not safe for food, so you'll want to avoid using it on food-related ceramics.
5. Gorilla 7700104 Super Glue Gel
Pros
Easy application
Very fast bonding
Works with most materials
Cons
Not foot safe (should not be used for household or kitchen items)
The Gorilla brand is among the most popular adhesive names in the industry. This Super Glue Gel is especially good for porcelain, ceramic, pottery, figurines, and other fragile items.
In 30 seconds, it'll dry and set, forming an extremely strong bond.
The rubber-enhanced formula relies on special ingredients to enhance the tensile strength of the bond, making it heat-resistant and waterproof.
However, Gorilla Super Glue Gel isn't food safe, so don't use it on dishware.
The anti-clog cap keeps the glue intact and ready to use anytime.
I don't recommend painting over it because this super glue won't make it easy on you. However, there's one more advantage to using Gorilla Super Glue Gel – it works on any material, including rubber, leather, paper, metal, wood, plastic, and more.
6. Elmer's E1012 China and Glass Cement – For Ceramic Mug
Pros
Affordable pricing
Very strong bonding
Non-toxic and food safe
Elmer's E1012 adhesive is perfect for ceramics, porcelain, Chinaware, and other breakable objects.
With this glue, you won't need to worry about toxic substances because the adhesive is non-toxic and dishwasher safe. It's also waterproof once it dries out.
You can piece cups, mugs, and glasses back together without worrying about intoxication. While Elmer's China and Glass Cement glue doesn't boast a high heat resistance, it offers superb tensile strength.
The curing process may take a few days, though. In the meantime, you'll need to keep the ceramic piece safe and away from external hazards.
The adhesive is quite vulnerable before it cures completely.
7. Bob Smith Industries BSI-157H Maxi-Cure/Insta-Set Combo Pack
Pros
Affordable pricing
Very fast bonding
Works with most materials
Cons
Not foot safe (should not be used for household or kitchen items)
This adhesive works on most materials, including wood, glass, metal, ceramic tiles, plastic, and various other ceramic objects.
Bob Smith Combo Pack glues act very fast, almost like super glue, and their tensile strength is amazing.
In about 30 seconds, the glue will become sticky and irremovable on any object, especially ceramic. Its texture is thick, which means it won't run off.
Moreover, the adhesive comes with a bottle of Insta-Set, which will set the glue instantly upon application.
In my experience, this is the strongest glue for ceramics, but it's not food safe nor offers high heat resistance.
Its versatility can't compare to our top-ranked adhesive, but it's a great choice if you don't have Gorilla 2 Part Epoxy on hand.
8. Loctite Epoxy Five Minute Instant
Pros
Precise application
Very fast bonding
It can be painted over easily
Cons
Not foot safe (should not be used for household or kitchen items)
Similar to the Gorilla 2 Part Epoxy, the Loctite Epoxy Five Minute Instant is a 2-part epoxy that combines two substances to create a super-strong adhesive.
With a PSI of over 3,000, this glue is one of the strongest in bonding ceramics.
Loctite Epoxy is great for porcelain and ceramics with a precise delivery system and high resistance to heat, solvents, and water. But it works on other materials, such as:
Wood
Metal
Glass
Tile
Fiberglass
Stone
Concrete
Rigid plastics
China
The adhesive isn't food-safe or oven-safe, though. You can paint and sand it after it cures completely, though.
9. Devcon Waterproof Glue – Food Safe Epoxy
Pros
Food safe
Waterproof
Super strong bond
Waterproof, dishwasher-safe, food-safe, and with the instant setting, Devcon Waterproof Glue is a great solution for repairing ceramics. It can also bond concrete, glass, china, wood, and metal.
Its high tensile strength ensures a long lifespan for most materials.
Devcon was originally made for industrial use, but it works just as well for at-home repairs. Its resistance to heat, chemicals, and solvents is also top-notch.
However, the adhesive itself is runny, and you'll need to be careful while applying it.
Once you apply the resin, its hardening component will set the adhesive instantly. Once it dries, the glue can be painted and sanded without a problem.
Buying Guide For Ceramic Glue
I considered a few key factors when building the above list of 9 adhesives for ceramics. Ceramics are easily breakable, and some finesse is needed. The right glue should offer the following:
Heat resistance – Chances are you want to repair ceramic dishware or cookware which you'll put in an oven. So, your adhesive will need a lot of heat resistance to prevent it from breaking up when exposed to high temperatures.
Related guide: Best heat resistant glue
Non-toxic compounds – If you're repairing dishware, you want the adhesive to be non-toxic and food-safe. That's because some glues are toxic, and you can't ingest them, even in small quantities.
Water-resistant – Ceramic adhesives should be highly resistant to water. Common glues will disintegrate when in contact with water. Waterproof ones won't! The waterproof concept is necessary if you're repairing pottery or vases.
Solvent resistance – The ideal ceramic glue should be highly resistant to all solvents. You'll likely use various substances and solvents to clean the ceramic afterward. You don't want the adhesive to degrade because of that.
High tensile strength – Ideally, you want an adhesive with a tensile strength stronger than the ceramic itself. Epoxy glues must resist vibrations, shocks, impacts, and pressure (especially important for ceramic tiles and flooring).
Clamping & Dry Time – Quick drying times are a must for ceramic adhesives. That's because ceramics can easily break, so a strong bond must form fast to prevent accidents. Clamping won't be necessary, hopefully.
Paintable – Chances are you want to repair a ceramic object that's part of a collection. Its aesthetics give it value, so you'll need to maintain as much of its visual impact as possible. Painting over the glue becomes essential, then!
How To Repair Ceramics
First, you should know ceramic cracks are porous and rough instead of smooth and flat. You'll need an adhesive that best works for porous surfaces, preferably a 2-part epoxy glue.
Smooth glues won't work, most likely.
First, heat up the pottery to about 140 degrees to fix a broken ceramic piece. This will make the glue adhere better to the material.
Generally, to repair ceramics, you'll need to apply a thin layer of glue and then attach the pieces in a stable position. Then, apply a special type of clay that holds them together.
It's also important to know that clamping is forbidden with ceramics due to their delicate nature.
Because of their toxicity, you also can't use regular glue, silicone glue, gorilla glue, and cyanoacrylate glue.
Here's a step-by-step process for repairing ceramics:
Fill a large container with plastic, PVC pebbles, sand, or rice. This makes for the perfect medium to hold the ceramic while gluing it. It'll also stabilize the pieces, quickening the bonding process
Rub the ceramic pieces with alcohol. Make sure you dislodge any sand or other impurities out of the way.
With a dabber tool, apply a thin layer of epoxy to the broken ceramic piece. Don't apply it to both sides of the broken pieces. Also, don't waste too much time because ceramic adhesives will set within minutes.
For ceramic glues to cure completely, they need a temperature of 75 degrees at the very least.
Ideally, use pottery clay to hold the ceramic pieces together
When working with epoxy or super glues, you will want to use disposable safety gloves. Fast-setting adhesives will stick to your hand and harden within seconds. You don't want that happening, I assume.
Safety glasses are another necessity since many epoxies or super glues are toxic to your eyes. Even a face mask or respirator may be necessary for some industrial-grade adhesives.
Conclusion
Ceramics are tricky to repair, but you'll make the process considerably easier with the right tools.
My best recommendation is Gorilla 2 Part Epoxy, a masterful adhesive with high tensile strength and plenty of resistance to external hazards.
But the other eight types of glue on the list make for perfect replacements when you don't have Gorilla 2 Part Epoxy on hand.
Some are better, but this guide should tell you everything you need to know!