Fabric and plastic are everywhere. They're used in lots of applications, often together. The problem is that both materials are challenging to work with.
If you need to glue plastic and fabric together, you'll need a compatible, high-quality fabric glue.
This article will provide a comprehensive list of the best fabric and plastic glues for a seamless job.
Most plastics are heat and chemical-sensitive, not to mention too smooth for the glue to adhere properly.
Fabric is usually porous. It soaks up the glue and becomes crusty and inflexible when dry.
Put the worst of both worlds together, and you've got yourself a nightmare. Not every fabric glue formula will be suitable for this difficult material combination.
Recommendation: Aleene's 23473 Fabric Fusion Permanent Fabric Adhesive is designed to tackle these challenges for you. This glue is compatible with fabric, plastic, and many other materials. It dries clear and flexible, is water and brittleness resistant, and fixes all sorts of fabric to plastic damage, including rips and tears.
Keep reading for a more great fabric to plastic glues!
Check out our guide on the best glues for fabric to wood for additional information.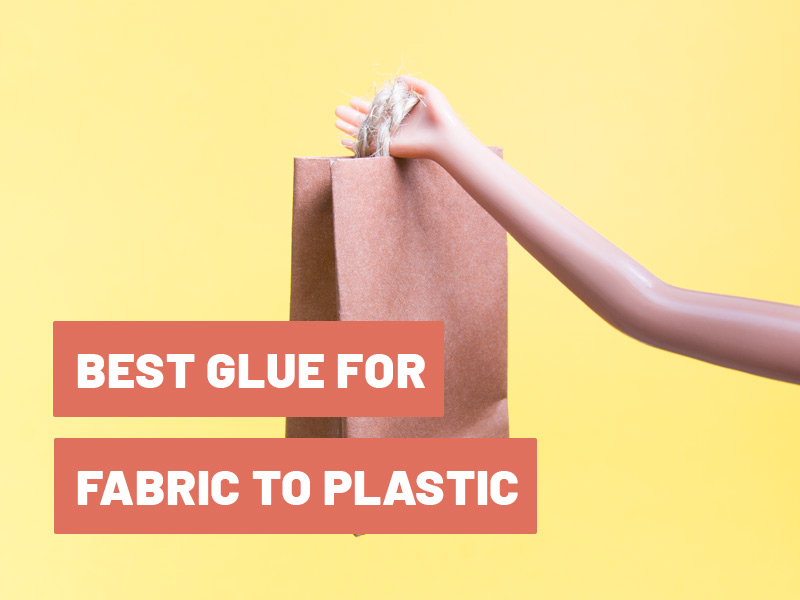 Suitable Glues for Fabric to Plastic
There are many types of fabric glue on the market, each with different specifications. Making the right choice might seem overwhelming, but you can narrow your list to just a few products.
Here are the most suitable types of glue for fabric to plastic applications.
Super Glue
Super Glue works well on almost any material, fabric and plastic included. However, this type of glue might damage certain very hard plastics, such as polyethylene or polypropylene.
Still, Super Glue is completely safe for softer types of plastic.
This is the perfect glue for the job if you need an instant, powerful bond and a short curing time.
Super Glue is also waterproof and pressure-resistant, as it can bear huge amounts of weight. Sadly, this glue isn't impacted, temperature, or solvent resistant.
Epoxy Glue
Epoxy Glues can offer the permanent solution you're looking for. These glues have high adherence to both porous and non-porous surfaces.
They form powerful, permanent bonds, and once the glue is fully cured, it's resistant to a wide range of damaging factors, including impact, tension, weight, temperature, and solvents.
Sadly, epoxies also have some downsides. These glues come in two parts, and they require careful measuring and mixing.
They're hard to transfer, and using them is messy. Curing takes a long time, and you'll have to use a clamping device for a tight, durable bond.
However, for heavy-weight applications, the effort is worth the results.
Spray Adhesive
A simple yet effective spray adhesive is all you need for simpler projects such as arts and crafts. These types of glue create strong bonds, albeit they aren't very impacted or tension resistant.
They work well for lightweight materials and small-scale applications but shouldn't be a top pick for heavy-duty work.
Unlike other glues, Spray Adhesives are very easy to use. They're compatible with virtually any type of material.
They don't create a mess because they don't drip and run everywhere. You can apply them in thin, precise layers; they have short-acting times and are also 100% waterproof.
Not recommended fabric glue types are tacky glue, hot glue, regular gorilla glue, wood glue, and white glue.
Best 11 Glues for Fabric to Plastic
Read about my recommendations for the best fabric glue around.
1. Aleene's 23473 Fabric Fusion Permanent Fabric Adhesive
Pros
Dries very clear without leaving marks
Good for all kinds of fabric to plastic work
Very easy to apply
Cons
Slow setting time
Only good for short term use
If you're looking for a powerful quick-fix, the Aleene's 23473 Fabric Fusion Permanent Fabric Adhesive is the perfect solution.
This formula is designed with fabric and plastic in mind, so you'll get high adherence for all types of surfaces and a nice, easy-to-control consistency and flow.
Once dry, this glue forms a powerful yet flexible bond, great for thin fabric materials and different types of plastics.
The product is clear and dries without leaving any traces, so you can safely use it on visible surfaces. It's also waterproof and resistant to yellowing.
However, you should know that this glue is best suited for short-term applications. Another downside worth considering is the long setting time.
You might have to wait up to 30 minutes before the glue works its magic.
We believe this is the #1 best glue for fabric to plastic.
2. Beacon Fabri-Tac Permanent Adhesive
Pros
Waterproof
Heat resistant
Very fast drying
Cons
Not ideal for all types of plastic
The Beacon Fabri-Tac Permanent Adhesive is perfect for all sorts of fabric applications.
It's compatible with all types of textiles, including lace, and it also works well for leather, wood, glass, and most types of plastics, except for polypropylene and polyethylene.
This acid-free glue dries clear and with a permanent yet flexible bond, exactly what you need when working with thin materials like fabric.
Besides its strong, unbreakable bond, this glue also has a quick-acting time, both fast to grab and fast drying.
Once cured, the glue is 100% waterproof, washer safe, and heat resistant.
This glue is also great if you need glue for leather to metal.
3. E6000 237032 Craft Adhesive
Pros
Waterproof
Very high bond strength
Heat resistant
Not flammable
Cons
Will not work on all types of plastic
The E6000 237032 Craft Adhesive is a high-resistance, industrial-strength glue suitable for all sorts of materials, including fabric, most types of plastic leather, wood, metal, ceramic, glass, and more.
However, this product won't work on hard plastics like polypropylene or polyethylene.
This powerful adhesive has an intense, permanent, but flexible hold. Its properties make it highly versatile, as you can use it for indoor and outdoor applications.
It's resistant to freezing and hot temperatures, impact, and pressure. It can bear heavy loads; it's photo-safe, non-flammable, and waterproof.
4. 3m Multi-Purpose Spray Adhesive
Pros
Dries and bonds very fast
Very high bond strength
Works with most types of material
Cons
Difficult application in small areas
This multi-purpose glue's the perfect choice when you're on the go or want something quick and easy.
Thanks to its spray application, it's very simple to use, it works great for wide surface applications, and you don't have to worry about making a mess everywhere.
All you have to do is press on the spray dispenser. The glue goes on instantly in thin, neat layers.
The application could be difficult if you're working with small objects, so you'll need some protective layers to catch the extra product when spraying the glue.
This glue is compatible with multiple surfaces, whether porous, non-porous, painted, or unpainted.
It's also suitable with virtually any material, including fabric, plastic, foam, carpet, cardboard, paper, foil, metal, wood, and more.
It's quick bonding, has a near-instant and powerful tack, and has very short drying times. All this being said, the 3m Multi-Purpose Spray Adhesive is best suited for lightweight materials and simple repairs or art projects.
You shouldn't rely on this glue for heavy-duty work or applications where you need high-impact resistance.
5. J-B Weld 50139
Pros
Works on most types of plastic
Works with different types of material
Bonds fast
The J-B Weld 50139 is a two-part, high-strength, structural adhesive that offers high efficiency for all applications.
You can use it for fabric, thermoplastics, carbon fiber composites, thermosets, coated metals, concrete, and many more.
This glue requires mixing before use, but thanks to its double-syringe recipient, it's very easy to dose pre-preparation.
The product also comes with a resealable cap to prevent waste. You can choose between two different colors, black or tan, depending on the desired final appearance.
This adhesive has a malleable consistency. It's easy to spread, and you can also use it to fill in gaps for extra adhesion and bonding power.
It sets in about 15 minutes, and you can also sand the excess glue after only 30 minutes.
This glue provides a powerful, permanent bond with a tensile strength of 3770 PSI when fully cured.
This product has great pressure resistance, so that you can use it for heavy-duty applications, such as in high-traffic areas.
6. GLUESMITH – Plastic Repair Glue System from The Gluesmith
Pros
Versatile application
Comes in special bottle to prevent clogging
Fast bonding
Cons
Not good for large repairs
The Plastic Repair Glue System from The Gluesmith offers a comprehensive solution for all your repair needs.
Whether you need these products for regular daily applications, or heavy-duty repairs for motorcycles, marine, or automotive devices, these products will serve you well.
This kit comes with two industrial adhesives in different consistencies.
The thick consistency adhesive doesn't run, drip, or soak up and is suitable for gap filling. In contrast, the thin adhesive can penetrate deeply into porous materials to offer a tight, permanent bond.
You'll also get an accelerator for instant drying. This product works as a primer on hard-to-bond materials while cutting down on curing time and increasing bonding and gap-filling ability.
You'll also get a structural composite filler suitable for building, filling, and reinforcing all materials. Once dry, the composite can be sanded, drilled, or painted.
This kit will arm you with all the products you need for any situation. These glues provide excellent results in fabric to plastic applications and work well on difficult plastic materials such as polyethylene and polypropylene.
These products are specially bottled to prevent dry-ups or clogged tips and have a very long shelf life.
You can keep them for 2 years at room temperature or up to 5 years if refrigerated.
7. Loctite Epoxy Plastic Bonder 0.85-Fluid Ounce Syringe
Pros
Weather resistant
Very high bond strength
Doesn't drip
This formula works great on multiple plastic materials, including acrylic, polycarbonate, PVC, ABS, FRP, and nylon.
It's one of the best glues for polycarbonate around.
However, like most other plastic glues, it won't bond with polypropylene or polyethylene. You can also use this glue on non-plastic materials such as fabric and metal.
The Loctite Epoxy Plastic Bonder has a thick consistency, which makes it easy to mold, and you won't have to worry about the glue sliding or dripping everywhere.
The product sets in around 20 minutes and provides an industrial-strength bond.
Once dry, the glue can withstand high pressures of up to 3450 PSI. This product is also suitable for outdoor use since it is resistant to moisture, humidity, and impact.
When fully cured, the glue is also motor oil, diesel, gasoline, and solvent resistant.
8. Odif USA 505 Spray and Fix Temporary Fabric Adhesive
Pros
Odorless
Non-toxic
Ideal for small projects
Cons
Sticks very easily to the skin
Odif USA 505 Spray and Fix Temporary Fabric Adhesive is a mess-free way to bond fabric to fabric and fabric to plastic, especially for textile work.
This glue is easy to spray in thin layers and is completely transparent and odorless.
It leaves no marks and doesn't soak or dampen the fabric. It's also a great glue if you need to work on highly complex projects.
While this product is fast-acting, you still get to reposition the pieces if you need to correct some errors.
This spray is non-toxic, so you don't have to worry about skin, eye, or respiratory irritation. However, the aerosol is highly flammable, and the container may burst if kept at high temperatures.
9. Bondic LED UV Liquid Plastic Welding Pro Kit
Pros
Not stick on the skin or surrounding area due to UV light bonding
Binds in just seconds
Comes in special easy-to-use container
Cons
Not good for hard-to-reach cracks
The Bondic LED UV Liquid Plastic Welding Pro-Kit is the ultimate toolset for quick, mess-free, high-strength bonds.
This product works on virtually any material, including fabric, plastic, PVC, vinyl, rubber, leather, metal, steel, wiring, wood, ceramic, and many more.
The above is why I recommend this glue for rubber and as glue for vinyl.
The kit contains two tubes of liquid adhesive with a slick, precision applicator tip and a compact LED UV light, all for a budget price.
You can use this versatile adhesive in many ways, including bonding, building, filling, and fixing chips and cracks.
This adhesive is not glued in the traditional sense. It will never dry until activated. You won't have to deal with the stickiness and instant skin bonding like you would with other glues.
You apply the product and decide exactly when you want it to set and cure.
With the press of a button, you get a permanent, high-strength bond within seconds. After UV exposure, the adhesive dries clear and can be sanded or painted immediately.
The final bond is also 100% waterproof and heat-resistant. And thanks to the UV-curing formula, you can store this glue for long periods without it ever drying out.
10. Tear Mender Instant Fabric and Leather Adhesive
Pros
Cures by themselves without the need for heat
Works with multiple types of material
Water-based
Cons
Opened and unused bottle has short shelf life
This is a great glue for textile applications, art and craft projects, or home decor repairs. This glue adheres to porous surfaces and works great for fabric, leather, and other malleable materials.
It's also suitable for both indoor and outdoor applications, being waterproof and UV-resistant.
Check out my guide on UV glue for more info.
The Tear Mender Instant Fabric and Leather Adhesive is a non-toxic, water-based, acid-free latex adhesive. It won't eat through thin plastic and won't damage finished leather.
It has a quick grab and forms near-instant, permanent bonds. Once dry, the glue remains flexible, so it's unlikely to crack and peel.
11. Beacon Adhesives Fabri-Tac Glue
Pros
It doesn't leave stains
Works also with other materials than just fabric or plastic
Bottle contains glue gun – very easy application
Cons
Needs to be applied very precisely because it doesn't dry 100% clearly
Another great product from Fabri-Tac, the Beacon Adhesives Fabri-Tac Glue, meets all the requirements for the perfect fabric adhesive.
This acid-free glue is compatible with multiple materials so that you can use it to bond fabric to fabric, fabric to plastic, and many other materials, including glass, leather, and wood.
This glue dries clear, leaving no yellow or white stains on white and black fabrics. It has a fast grab and quick drying time and provides a powerful weight-bearing bond.
Like you'd expect from any good fabric adhesive, this glue is also water-resistant and hand-washable.
Fabric to Plastic Gluing Tips
The operating instructions might differ depending on the application type and the glue you choose for the job. However, some things will remain constant.
You need to learn how to use the glue and prepare the materials for the best results.
Most glues come with usage and safety instructions, so always read the label first.
This will save you a lot of frustration.
That being said, here are some general tips to help you when bonding fabric to plastic:
Check to see if the plastic and glue you're using are compatible. Certain glues are too strong and might eat through plastic, especially thin or heat-sensitive plastics.
Prepare the surfaces before bonding. Any debris on the plastic will get in the way of the glue, preventing it from adhering properly. Wipe the surfaces you're working on with a clean damp cloth to eliminate dust or dirt.
If you're using very thin fabric, apply thinner layers of glue. Glues with thin consistencies soak up easily in porous materials. That's not something you want because the fabric can become sticky on the surface and get rigid and crusty when dry.
If you're using epoxy, don't forget to mix the two parts before applying the product. Without mixing in the hardener, the resin won't ever dry.
For glues with a long curing time, you'll need to clamp the materials together for up to 24 hours if you want a tight, durable bond. Doing this by hand is not an option, so you'll need some clamping tools on hand.
For spray glues, you don't have to spray both surfaces before clamping. Although it might seem like very little adhesive, spraying only one side is enough. Using too much product often prolongs the drying process.
Wrap Up
Fabric and plastic don't make the easiest combo to work with. However, with the right adhesive in your toolbox, you can not only make it work, but you'll also get great results.
Whether you need glue for home renovations and décor, textile applications, arts and crafts, or general repairs, there are multiple great options.
It doesn't matter if you prefer a spray adhesive, an epoxy, or good ol' super glue; we've included plenty of amazing options for each type of glue and various fabric to plastic applications.
Hopefully, this article helped you find the best option for your needs.