What are the best glues for rubber? How do you glue rubber properly? How can you glue rubber to other materials efficiently?
In this article, I'll answer these questions as concisely as possible.
Rubber isn't anything special as far as materials go. But not all glues work on rubber.
And not all rubber glues are good. To repair something made of rubber, you need a strong glue that can resist a lot of wear and tear.
Recommendation – Loctite Ultra Gel Control Super Glue is the best rubber glue I've found. It's an epoxy-based glue with one part resin and one part hardener. On mixing, the two substances become extremely hard, almost like plastic. The created bond is very strong and durable.
Keep reading for my list of the best rubber glues, and how to glue rubber to other materials!
Related guide: Best Glue for Rubber to Plastic
Related guide: Best Glue for Vinyl
Related guide: Best Glue for Patching Gas Tanks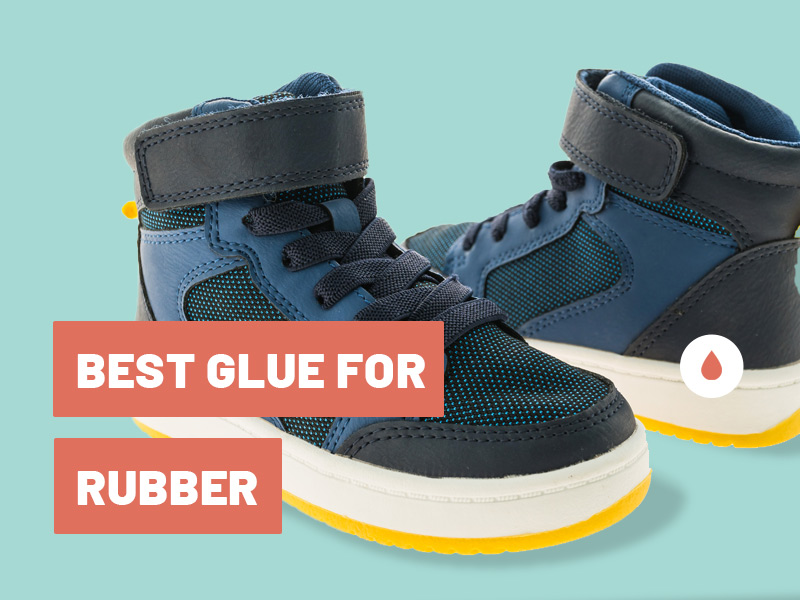 Types of Rubber Glues
When gluing rubber, you should choose between the following types:
Epoxy
Epoxy glues are renowned for their high tensile strength and powerful bond. Despite having to mix them up manually, these glues are great for rubber.
They can also resist dangerous levels of moisture, heat, solvents, chemicals, and impact.
Moreover, epoxy glues can bond to a large number of materials, aside from rubber.
They can even bond rubber to plastic, ceramic, wood, metal, and so on. It's an all-purpose adhesive that does its job splendidly, in other words.
Two Part Acrylic
Similar to epoxy glues thanks to the two-part dispensing system, acrylics also form a strong, plastic-like bond.
I recommend two-part acrylics for large-scale projects where you need to join different materials together.
No extensive mixing or preparation is required. Just pour the two substances together, mix them up, and apply them to the rubber.
The resulting bond is reasonably resistant to water and chemical substances.
Silicone Glues
Glues that are 100% waterproof remain very flexible after bonding, and this is the case with silicone glues.
These glues are also very good for rubber-to-rubber gluing, as well as underwater repairs.
Thanks to its high flexibility, a silicone glue is impact-resistant and heat-resistant, to a large degree.
They make for great outdoor glues, where extreme weather conditions would break apart other types of glue.
Cyanoacrylate
Also known as super glue, cyanoacrylate glue has a fast setting and curing time. It'll dry and cure before you know it (a couple of minutes or even seconds).
Its tensile strength is reasonably large but a bit weaker than other glues.
Cyanoacrylates are still very resistant against most forms of degradation. This includes heat, water, chemicals, solvents, and harsh weather.
Some adhesives however do not work on rubber, such as normal Gorilla glue, contact cement, hot glue, epoxy glue, cyanoacrylate adhesive, spray adhesive, wood glue and contact adhesive.
Best Glues for Rubber: How to Pick the Best?
Here are my recommendations for the best glue for rubber.
1. Loctite Ultra Gel Control Super Glue
Pros
#1 best glue for rubber
Works on silicone rubber
Compatible with natural rubber
Strong rubber bonding
A highly efficient rubber glue, Loctite Super Glue takes the form of a gel. This means it's easier to apply because it says in place once you set it down.
It also contains rubber, which makes it perfect to bond rubber to rubber.
This glue is strengthened rubber, in a way. Its tensile strength varies between 2175-3625, making Loctite Super Glue one of the strongest glues.
Loctite can bond a wide range of materials to rubber, including:
Ceramics
Wood
Leather
Metal
Plastics
Paper
The resulting bond is highly resistant to vibration, shock, impact, and extreme temperatures.
There's also no need for clamping since Loctite Super Glue sets in mere minutes.
The squeezing application system makes it very easy to apply, as well.
2. 3M Scotch-Weld Plastic & Rubber Instant Adhesive
Pros
Perfect rubber adhesive
Compatible with silicone rubber
Works with natural rubber
Can glue metal as well
Cons
Not waterproof
Not resistant to extreme heat
Scotch-Weld Adhesive from 3M is very good for plastic-to-rubber bonding. It doesn't do good with other materials, though.
It has a near-instant setting and exceptional tensile strength.
It's quite easy to apply due to the precise applicator, though the glue itself is runny and liquid.
It's drip-free, though, which makes it much easier to apply. There's no clamping involved, either.
While it's reasonably resistant to high temperatures, moisture, and solvents, it's not 100% waterproof, solvent-proof, and heatproof.
Still, for plastic to rubber repairs, it's one of the best glues out there.
You'll need to work fast, though. The quick setting and curing time mean the glue will harden before you finish the repairs.
3. Sugru Moldable Glue
Pros
Great choice for a rubber adhesive
Works with natural rubber
Compatible with silicone rubber
Works with any rubber material
Works with neoprene rubber
Cons
Not good for small repairs
Not heat resistant
A glue that uses silicone technology, Sugru Moldable Glue is a unique entry on this list.
The created bond is both flexible and hardened to perfection. As for the glue, it takes the form of a putty rather than liquid or gel.
When you want to glue something, cut off a part of the putty, knead it, and then apply it.
The molding process takes quite a while but I think it's better than messing around with dripping liquid.
Sugru is very easy to use and it works on a wide range of materials, including:
Wood
Plaster
Ceramics
Rubber
Stone
Glass
Metal
Fabrics
Brick
Once you've placed it on the material, wait for 12-24 hours for the hardening process to finish.
Once hardened, it doesn't become rigid, though. It's still quite malleable and flexible, with great shock and impact resistance.
4. IC-2000 Rubber Toughened Extra Strength Adhesive
Pros
Excellent rubber adhesive
Strong rubber bonding
Dries in less than a minute
Includes easy application tip
A quick-drying super glue, the IC-2000 is reasonably strong and has good tensile strength.
I recommend it for outdoor projects and electronic projects, thanks to its shock-resistance on non-porous materials.
It'll dry completely in 20-30 seconds, so you'll need to work very fast. Fortunately, the glue bottle has a handy application tip that makes it easy to apply.
When hardened, the glue is shiny-black but the good news is you can dissolve it with acetone. It'll also irritate your eyes and bond to your skin if you're not careful.
5. Barge All-Purpose Cement
Pros
Works on most materials
Comes with applicator brush
Is water resistant
This mustard-looking all-purpose adhesive is waterproof and neoprene-based. This means the bond it creates is very strong and durable.
It works on many materials, including concrete, leather, rubber, vinyl, glass, cork, wood, metal, and more.
You only need to apply one coat of this yellow glue, and in 10 minutes, it'll dry completely.
The bottle has an applicator brush that makes everything easier. Once it dries, you can safely paint over the glue to blend it into the environment.
Though, Barge Cement is flammable and toxic, so I recommend wearing a mask when using it.
6. E6000 Craft Adhesive – Waterproof Glue for Rubber to Plastic
Pros
Dries clear
Can be painted on
Waterproof
While not top-of-the-line, the E6000 glue is very flexible when dry. It's also quite powerful, with a high tensile strength that'll make your repairs stay there for a long time.
Once it cures, this glue is non-flammable, as well.
You can use it on photographs and various materials like ceramic, rubber, plastic, and glass. It's best at gluing rubber to plastic, though. Once it dries you can paint over it, though it's mostly invisible on all materials.
E6000 Adhesive can also be used for outdoor repairs thanks to its waterproof concept.
7. Gorilla Super Glue Gel
Pros
Can dry in just 10 seconds
Dries clear and can be painted on
Does not need clamping
Gorilla Super Glue is one product I'd certainly recommend for its high tensile strength.
It can bond just about anything, especially rubber. You don't have to clamp the materials either. The glue sets itself without your interaction.
In 10-45 seconds, it'll dry completely in a clear color. You can easily paint over it if you don't like it.
I especially like the anti-clog and run control formula, which ensures you get just enough glue per single application. Not less and not more!
This glue has great impact resistance, and it can even hold materials bonded on sharp drops.
However, Gorilla Super Glue Gel is not waterproof, so avoid using it outdoors.
8. J-B Weld 31310 Clear All-Purpose RTV Silicone Sealant and Adhesive
Pros
Dew and mold resistant
Waterproof
Weather resistant
Comes in different colors
Cons
Takes about an hour to cure
Can irritate the eyes and skin
A J-B Weld glue resists extreme weather and is also waterproof, mold-resistant, and mildew-resistant.
Its PSI is reasonably large, as well. It can bond rubber to most materials without any cracking or shrinking.
Despite taking one hour to cure, the J-B Weld is a great solution for rubber-to-rubber bonding.
It may irritate your skin and eyes on direct contact, though. I recommend wearing eye protection and gloves while handling it.
This adhesive also comes in multiple colors, such as:
Ultimate grey
White
Black
Blue
Gray
Clear
Ultimate black
Ultimate copper
It's good for repairing windshields, aquariums, lens housing, tubs and showers, windows, and more.
9. Shoe Goo Repair Adhesive and Protective Coating
Pros
Is waterproof
Works on canvas, vinyl and leather
Excellent rubber adhesive
Cons
Is flammable
Vapors can be toxic
When it comes to rubber, chances are you need to fix some old shoes. And Shoe Goo Adhesive is made just for fixing shoes.
It's based on a synthetic formula that applies a strong bond to rubber surfaces.
It's waterproof and works as a clear coat sealant, as well. You just squeeze and the glue comes out.
Nothing simpler! It works on canvas, rubber, vinyl, and even leather without a problem. However, it won't work equally on all materials.
Related guide: Best glue for canvas
The drying process takes about 6 hours. It can take more, depending on the thickness of the glue layer.
Lastly, you should know that Shoe Goo Adhesive is flammable and emanates dangerous fumes, which is why I recommend wearing a mask.
10. Elmer's E904 Rubber Cement – Non-toxic
Pros
Acid-free
Water resistant
Dries clear
Elmer's Rubber Cement is an acid-free formula that dries clear and is water-resistant.
It's the type of rubber you'd want to use on small-scale projects, though. Its tensile strength is not that great, so it doesn't bond too well.
It's more of a delicate adhesive that's great for small repairs and projects. The brush applicator should make it easy to apply.
From experience, I can tell you that it works on paper, sponges, and rubber.
Though, the glue is also flammable and emanates strong vapors, and I'd recommend wearing a mask when working with it.
11. Slime Rubber Cement
Pros
Comes with brush applicator
Dries clear
Dries in just a minute
Suitable for rubber repairs
Cons
Only works on rubber
Flammable
This is a rubber-only glue that doesn't work well with other materials. It's a great product for repairing bike tires and tubes.
It dries clearly in a minute or so, and you won't make a mess when applying it either.
Moreover, it's quite easy to remove if you made a mistake. I'd only recommend it for small rubber repairs that don't require too much tensile strength.
This glue is both flammable and toxic, so wear a mask and gloves when handling it.
How to Glue Rubber to Other Materials
Most likely, you don't plan on gluing rubber to rubber. You want to bond rubber to something else like metal, plastic, or wood.
I'm going to explain how to do this, starting with:
Rubber to plastic
Rubber-to-plastic gluing is not difficult. You just need a two-part acrylic glue or an all-purpose adhesive.
I recommend two-part acrylics because they're specially made with rubber-to-plastic repairs in mind.
However, before doing anything, you'll want to know what type of plastic you're working with.
Is it a high-energy plastic like ABS or a low-energy plastic like polypropylene and polyethylene?
The plastic's surface energy determines whether you need a specialized glue or an all-purpose one.
High-energy plastics accept most adhesives, whereas low-energy ones a glue that works with that particular plastic.
In any case, makes sure the rubber and plastic are both clean before applying the glue.
Rubber to metal
Epoxy glues are the best at gluing rubber to metal. Before doing this, you need to sand the metal surface with a piece of sandpaper.
Roughen it a bit, then wipe it down to clean any impurities. Do the same for the piece of rubber.
Now that you've cleaned both surfaces, add glue to both the metal and the rubber.
You may need to wait for the glue to set before bonding the two materials together. Some glues also require clamping while others don't require any special attention.
In any case, you should let the glue dry for 24-72 hours before doing anything else. Rubber-to-metal repairs take a bit longer than other repairs.
Rubber to wood
To bond rubber and wood, look for a water-resistant and heat-resistant adhesive. Wood is quite easy to bond with rubber.
You just need to clean both surfaces well enough and let them dry. Then, apply rubber on both materials, press them together, and let them dry for an hour or so.
That's it!
Conclusion
Rubber takes a certain type of glue to bond perfectly. Epoxy glues like the Loctite Ultra Gel Control Super Glue are ideal for the job.
I haven't found a better rubber glue, whether it's tensile strength, resilience, flexibility, and resistance to external risk factors.
This article should help you choose the right glue for your rubber repairs!