Pottery is difficult to repair, especially if you don't have the right glue.
There are various types of glue out there, so you may not know which to choose.
Fortunately, this article is here to explain everything.
I'll talk about the structure of pottery products, the types of glue for pottery, how to use the glues, and my top 5 best adhesives for pottery.
After reading this article, you should be ready to repair your broken pottery anytime.
As long as you select glue from this list and follow the instructions closely, you should have no problems finishing the repairs.
Recommendation – Gorilla Super Glue is a high-tier adhesive that boasts incredible bonding strength and durability. It is a versatile glue that can bond with stone, ferment, fabric, ceramic, metal, and pottery. It's great at filling gaps and cracks, and it dries within a few seconds.
Keep reading if you want to know more about pottery glues!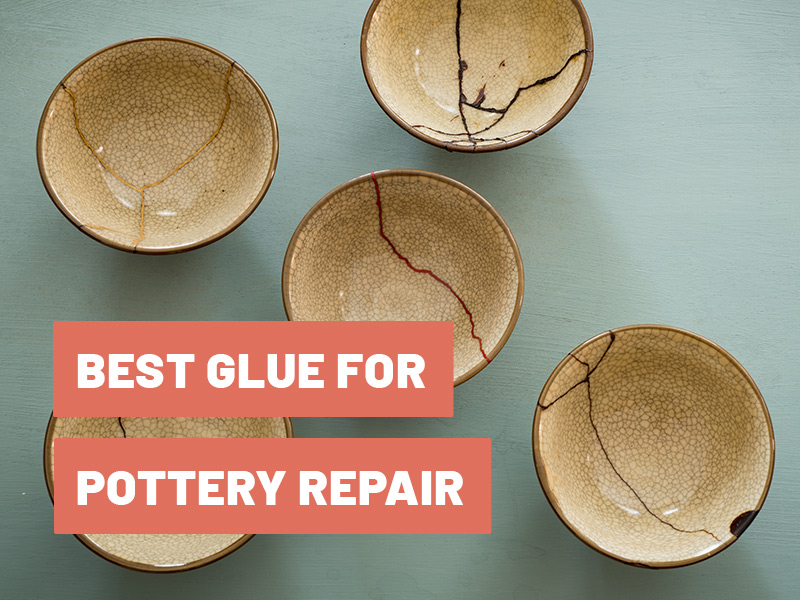 Types of Glue for Repairing Pottery
Let's be honest here – everyone has broken pottery at some point. You're here because you want to repair it.
But to do that, you'll need a good adhesive. Not just any glue can repair broken pottery efficiently.
Unfortunately, there are too many adhesives out there. Fortunately, I've compiled a list of the best ones for pottery:
Filler glue
This type of glue is thicker in consistency and can use to glue larger pottery pieces.
Its tensile strength is higher than most glues, so it can hold the largest pieces of pottery that need structural integrity.
However, filler glues are messy because they may spill from the pottery.
PVA glue
Regular PVA glue is very popular for repairing pottery because it dries quickly and boasts great tensile strength.
However, once it becomes dry, you won't be able to reposition the pottery pieces anymore.
The glue will have hardened too much, so adjusting the pieces will be hard.
PVA glue can also be used as glue for ceramic repair.
Superglue
Super glue is one of the strongest glues in the world. Its insanely-quick setting time is both an advantage and a disadvantage.
First, you'll finish the repairs quicker, but you'll need to be extremely accurate.
Since the glue sets in a few seconds, you have next to no working time to reposition the materials if you make a mistake.
Wood glue, epoxy, silicone sealant, and hot glue
These types of glue are great replacements for the other three adhesives.
If the ceramic is too porous, you can use epoxy glues or silicone sealants because they're very strong and flexible.
However, all these glues have specific drying times and properties, so don't use them together. Use only one!
Best Glue for Pottery – Top Picks
Here are my recommendations for the best glue for pottery.
1. Gorilla Super Glue
Pros
Great ceramic glue option
Perfect for ceramic repair
Creates a strong bond
Can act as a porcelain glue
Cons
Bottle is a bit hard to squeeze and can easily be damaged
This super glue uses a unique formula based on rubber particles to enhance the bonding strength and durability well over what other glues are capable of.
Gorilla Super Glue is perfect for pottery, according to professionals. It can bond with metal, ferment, stone, fabric, and ceramic are incredibly easy to use.
The pack also has applicators for small cracks, making the application much easier.
Fortunately, Gorilla Glue is also impact-resistant, so the next time you drop the pottery, it might not break in the same place.
Still, this adhesive has a thin tube that can be damaged if you're not careful.
2. Krazy Glue Home & Office Brush on Super Glue
Pros
Highly rated ceramic glue
Well-suited for ceramic repair
Can fix any broken piece
Works on glass cement
Krazy Glue Super Glue is great for small and large projects, including pottery and not only.
With the applicator brush on hand, you can glue the tighter corners of the pottery.
You can even repair smaller objects where you need a lot of precision. This glue is easy to use and offers instant strength for long-lasting bonds!
Most importantly, Krazy Glue is fairly cheap and accessible to anyone.
However, it's single-use only because of its smaller size and low quantity of substance. It should be more than enough for any pottery-related repair!
It can fix any broken edges on any ceramic item. It's a versatile ceramics glue.
It's also well-suited for porcelain repair.
3. Gorilla Waterproof Polyurethane Glue
Pros
Good quality ceramic glue
Works on porous surfaces
Great choice for ceramic repair
Doesn't leave excess glue
I'd assume you need waterproof glue if you want to repair pottery. Gorilla Polyurethane Glue is not only waterproof but also works outdoors without a problem.
It can bond glass, metal, and ceramic while expanding to three times its size.
This means it'll remain durable even when exposed to extreme weather.
I recommend it for most projects involving pottery and ceramic. Its tensile strength and durability are high enough to mend any crack for many years.
It may not resist impacts and shocks, but it's 100% waterproof. However, it might stick to your hands if you're not careful.
It's a good-quality ceramic glue that works on any clay pot and porcelain piece.
4. J-B Weld MinuteWeld Instant-Setting Epoxy
Pros
Can fix broken ceramic
Highly rated ceramic adhesive
Creates a strong bond
Few things are better than J-B Weld epoxy glue, especially when it sets instantly. This two-part epoxy glue will be set in 2 minutes and can fill any crack on ceramics and pottery.
Even though you need to mix up the ingredients, it won't take long and is very easy to mix.
With the syringe in the pack, you'll get just the right amount of resin and hardener.
J-B Weld Epoxy glue has approximately 2300PSI strength, which means it can handle any amount of pottery weight.
Once it sets and cures, the bond becomes as hard as solid plastic or even as hard as a stone.
Its only disadvantage is that it smells pretty bad, so I recommend wearing a respirator when working with it.
This ceramic glue also works on polymer clay and porcelain.
5. Devcon Minute Epoxy Waterproof Glue
Pros
Waterproof
Sets in 5 minutes
Can fix broken ceramic mug and any ceramic piece
Devcon is a simple epoxy adhesive that acts as ceramic glue. It's waterproof, durable, impact-resistant, and quick-curing.
In 5 minutes at most, you'll be done repairing the pottery and filling any crack you want.
Despite its short shelf life, Devcon Epoxy is durable enough to last a few years on any piece of pottery. Its tensile strength also reaches 1500PSI.
Devcon is also not only for pottery. Instead, you can use it for China, concrete, glass, wood, ceramics, and metals.
It operates like epoxy resin, so you'll need to mix the resin and hardener before applying the glue. After it dries and cures, the bond will be solid and permanent.
Structure of Pottery Products
Pottery is made of dried clay and is very rigid, so if you drop it, it'll break and shatter.
You can glaze them to increase their durability but nothing too special. Their fragility is still there.
In the Stone Age, pottery glue was made from ashes mixed with water. The resulting paste was used as glue.
In Ancient Egypt, the locals would use coniferous resin to glue pots.
Fortunately, today's adhesives are more efficient and accessible than ash or coniferous resin. With epoxy, you can glue many pottery items!
Wrap Up
There isn't just one glue for pottery. Instead, you can use several types and see which works better.
Gorilla Super Glue is my number one pick for this list, a great glue that can bond pottery easily.
The bond is durable and rigid enough, so it has decent impact resistance.
If you have any questions, leave them below!